Patergassen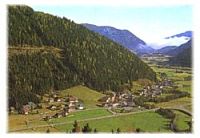 The village of Patergassen with a population of around 350 people, lies 6 km south of Ebene Reichenau. The neighbouring community of Bad Kleinkirchheim with its thermal spas Römerbad and Kathreintherme are within easy reach. So is Falkert, a popular winter and summer mountain recreation destination for the people from around the area.
The village of Patergassen offers a wide range of amenities including:
Billa supermarket, post office, sports and electrical appliance shop, bakery, hairdresser, two banks with ATM, a gas station with car repair and a police station.
There is a disco, a driving range and a protestant church in Wiedweg. Our practitioner Dr. Hofmeister has his medical practice in Vorwald, phone 297
Choose among a variety of lodging options around Patergassen, including private rooms, guesthouses, apartments or holidays at a farm. A special offer is guaranteed by the "Nockalmnester" group.

Accommodations in Patergassen